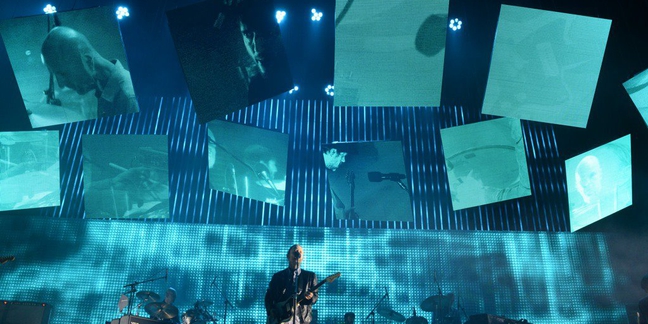 Photo by Mitch Manzella
Radiohead have released a statement detailing how the band will proceed following the stage collapse that killed drum technician Scott Johnson before a show in Toronto last weekend. Because the collapse damaged the band's light show and stage setup, a group of Radiohead's tour dates must be rescheduled. 
From the statement:
Hello everyone,

As you will probably have heard the roof over the stage collapsed at our show in Toronto killing crew member Scott Johnson and injuring three other crew members.  The collapse also destroyed the light show – this show was unique and will take many weeks to replace. The collapse also caused serious damage to our backline, some elements of which are decades old and therefore hard to replace.

Whilst we all are dealing with the grief and shock ensuing from this terrible accident there are also many practical considerations to deal with & consequently we have to try and reschedule the following shows...

We will make every effort to offer the fans the very best show possible under the circumstances – thanks for your understanding and support.
Find the updated tour schedule below. The band will announce new dates and refund information for the scrapped shows on June 27, according to the statement.
Radiohead:
06-30 Rome, Italy - Hyppodrome Capanelle
07-01 Florence, Italy - Parco Delle Cascine
07-03 Bologna, Italy - Piazza Maggiore
07-04 Codroipo, Italy - Villa Manin
07-06 Berlin, Germany - Wuhlheide
07-07 Berlin, Germany - Wuhlheide
07-09 Canton de Vaud, Switzerland - Quarry of St Triphon
07-10 Nimes, France - Les Arenes #
07-11 Nimes, France - Les Arenes #
07-13 Kobetamendi Park, Spain - Bilbao BBK Live
07-15 Lisbon, Portugal - Optimus Alive Fest
07-25 Taipei, Taiwan - Nanang Exhibition Hall
07-27 Jisan, South Korea - Jisan Valley Rock Festival
07-29 Niigata, Japan - Fuji Rock Festival
10-15 Cologne, Germany - Lanxess Arena
11-06 Auckland, New Zealand - Vector Arena $
11-09 Brisbane, Australia - Entertainment Centre $
11-12 Sydney, Australia - Entertainment Centre $
11-13 Sydney, Australia - Entertainment Centre $
11-16 Melbourne, Australia - Rod Laver Arena $
11-17 Melbourne Australia - Rod Laver Arena $
# with Caribou
$ with Connan Mockasin