Its almost midnight and there's apparently a storm of some sort boiling up outside. I say apparently as everyone on my Facebook feed is talking about it and I can hear the rain faintly patter against the windows. While the October weather is making the grey, London pavement wet outside, I'm curled up in a room where the light doesn't work, listening to
Nami's
new offering,
The Eternal Light of the Unconscious Mind
. Pathetic fallacy? Established.
The follow up to the bands debut,
Fragile Alignments
, is a conceptual work centred around dreams and the unconscious; and its opening track '
The Beholders'
is a promising start; its keyboard build up and screams hinting at something dark and mysterious. It's dark and heavy, with treacherous vocals reaching out over melodic guitar riffs and helicopter drums, mimicking the action going on outside my window. The blistering maelstrom is heightened through second track '
Ariadna'
, and doesn't take a second to launch into heavy chaos while the chorus hosts clean,light vocals that seem to calm down as it reaches "the eye of the storm". Two minutes of guitar solo later, and we reach '
Silent Mouth'
, a down tempo offering that marks exactly how the second half of the album sounds: sleepy, slow and lethargic.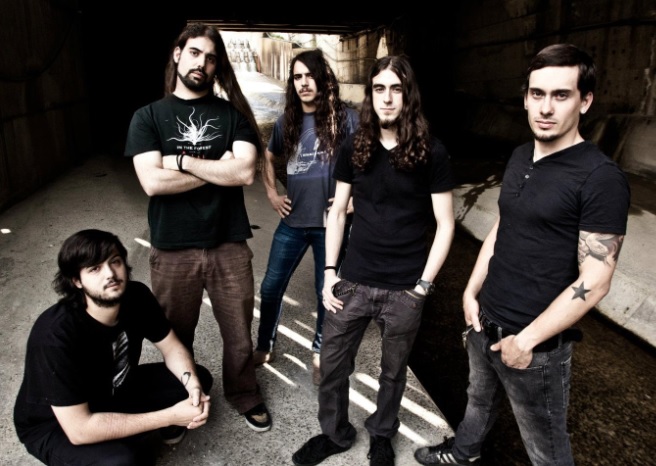 Perhaps that's the whole point of
The Eternal Light of the Unconscious Mind
, to send one into the land of nod. '
Hunters Dormancy'
is a mix of progressive and dark metal, showcasing some impressive riffing while switching between clean and distorted vocals. Its long solos only heighten the dark atmosphere, but it all becomes lost as we once again plunge into the down-tempo: '
Bless of Faintness'
. '
Hope in Faintness'
carries this lethargic theme and only after four minutes has a glimmer of picking up the pace. '
Crimson Sky'
plunges straight back into the abyss of gloominess: drawn out guitar notes thrummed slowly while lead vocalist
Roger Andreu
sings his solemn self to the albums closer, '
The Dream Eater'.
WATCH | Nami - 'Silent Mouth'
While
Nami
may have picked an interesting topic to make a prog-metal album about, they didn't seem to make anything interesting out of it. There are some standouts on this record,but are overshadowed by the stagnancy of others.
The Eternal Light of the Unconscious Mind
is as intense as fighting your way out of thick, gloopy quick sand: frustrating and getting nowhere (Not that I have experienced this). The second half of this record just seems to tail off and lose itself in the atmospheric heaviness, certainly achieving what it says on the tin. The promising brutality from the opening fades away, leaving behind drowsy metal with barely any oomph.
The Eternal Light of the Unconscious Mind
is out November 4
th
via
Graviton Music Services